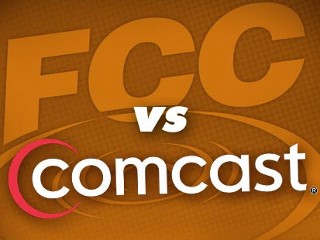 Court Says FCC Doesn't Have the Power to Enforce Net Neutrality!
A federal appeals court just ruled on Comcast's lawsuit to get the FCC's p2p blocking ban overturned—that the FCC doesn't have the power to tell Comcast, or any ISP, to be net neutral.
The National Cable and Telecommunications Association is shitting themselves with glee, meantime:
"The Court correctly ruled that a specific order by the previous FCC was wrong. We cannot state strongly enough that this decision will change nothing about the cable industry's longstanding commitment to provide consumers the best possible broadband experience. Nor does the ruling alter the government's current ability to protect consumers. We continue to embrace a free and open Internet as the right policy and will continue to work with the Commission and other policymakers and stakeholders to find a sound way of preserving that goal."
Case Study
Court rules FCC can't tell Comcast how to manageWeb traffic
Feb. 8: Then-FCC Chairman Michael Powell introduces a set of consumer protections—dubbed the 'Four Freedoms'—that Internet providers should follow.
Oct: Reports surface that Comcast is interfering with consumers' ability to download files from file-sharing services like BitTorrent.
Jan: FCC opens investigation.
March: Comcast says it will change its network-management practices and stop slowing peer-to-peer Internet traffic.
Aug: FCC says Comcast violated its Internet principles. It orders the company to change its policies but doesn't fine Comcast.
Sept: Comcast appeals, saying the FCC's net-neutrality principles aren't enforceable.
Sept: FCC Chairman Julius Genachowski proposes formal net neutrality rules, which would also apply to wireless Internet providers.
April: U.S. Court of Appeals for the District of Columbia Circuit strikes down FCC's Comcast order, saying that the agency exceeded its authority.
Source: Wall Street Journal.